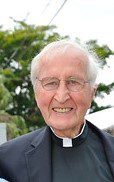 November 16, 1935
-
February 16, 2021
Born in Ireland and ordained to the priesthood at St Patrick's College in Carlow, Ireland on June 11, 1966, Father Seamus began his ministry at the Archdiocese of Miami at St Clement Church in Ft. Lauderdale. When the Diocese of Palm Beach was formed in 1984, Father Seamus was named as the first Chancellor and Moderator of the Curia, and was on numerous Diocesan committees over the years. He served the Diocese in various capacities including Vicar General, appointed as Apostolic Administrator for a short time, established the Lay Review Board which continues today, and served as faculty member at St Vincent De Paul Regional Seminary in Boynton Beach.
Father Seamus was named pastor of St Ann Parish in 2000 until his retirement in 2011. Under his leadership, St Ann Parish began to flourish and grow. St Ann Place and pantry are a testament to his care and concern for the poor, homeless and needy of our community. Father Seamus was loved and respected by all those who knew him. In an article for the Florida Catholic ADOM published in 2014, Father Seamus said: "My whole priesthood has been a blessing. I've been enriched by all the people I've met. Even in retirement, I have things to do" (Jim Davis, Florida Catholic ADOM, March 12, 2014, https://www.miamiarch.org/CatholicDiocese.php?op=Article_143125462876).
May his soul and the souls of all the faithful departed rest in peace.
VIEWING AND FUNERAL ARRANGEMENTS
Viewing will be on Monday, February 22, 2021 at 3:00pm- 6:00pm at the Cathedral of St Ignatius Loyola, 9999 North Military Trail, Palm Beach Gardens, FL 33410
Funeral will be on Tuesday, February 23, 2021 at 12:00pm at the Cathedral of St Ignatius Loyola in Palm Beach Gardens, FL
Memorial Mass will be on Tuesday, March 2, 2021 at 5:30pm at St Ann Church, 310 North Olive Avenue, West Palm Beach, FL 33401